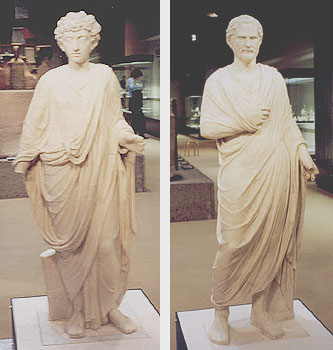 Togate, Roman and Greek
These two marble toga statues, one Roman, one Greek, have a long history of provenance. Originally acquired by the early 19th century Cologne merchant and well-known collector Joseph Heinrich Dumont, they were auctioned off after his death and had various owners since, lastly a Czech collector, but ended up at the Pergamon Museum in Berlin (later East Berlin) during the war. In 1996 they were acquired by the Romano-Germanic Museum from the Czech owner's estate.
Both statues originally were found without heads, and the current ones were later added. The left, Roman togate one, was given a head depicting a young Marcus Aurelius, the other, Greek togate, the head of Demosthenes.