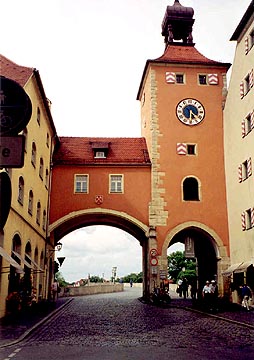 The Steinerne Brücke (Stone Bridge) dates back to the 12th century. The tower and gate at left, looking towards the bridge, is called the

Brückturm

(bridge tower). It used to be the only entrance from and to the bridge.

The bridge had two more towers, the Schwarze Turm (black tower) at the other end, and the Mittelturm, (middle tower) in the middle.

Regensburg suffered through a number of wars, the Thirty Years War, the Napoleonic Wars, and World War Two. Both towers were heavily damaged when the Austrians fought Napoleon, and never rebuilt. A section of the bridge was also blown up when the German army retreated towards the end of WWII.