Bad Kreuznach
Roman Villa & Römerhalle (Museum)
---
Wax Tablet and Stilus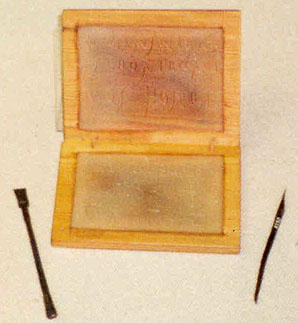 ---
Postscript 2003: An occasional contributor to the site, Al Schlaf, last fall, as an experiment, made one himself:
Inscribed on the two tablets is the opening line of the Aeneid

| | |
| --- | --- |
| | |
"The tablet is 5¼" wide and 6" long, the writing surface is 3" wide and just under 4" long. Materials were a spruce board and cut up wooden paint stir sticks, Elmer's Carpenter's Wood Glue and a bar of natural beeswax. Very little wax is needed. I chipped off flakes of it and heated it slowly in an old sauce pan over the stove, then poured it into the spaces and let it cool. The wood was cut with an X-Acto razor saw and trimmed with my Dremel Motor Tool."

"The stylus is just a hair over 5½ inches long, made from a 3/16" stock of brass rod. The brass rod was cut to size with Dremel. The "eraser" end was forged by heating one end over the stove, then hammering it flat over a piece of scrap steel plate, then burnishing with the Dremel. The point was made with a grinder wheel."
LacusCurtius • The Roman Writing Tablet (Smith's Dictionary)
Stilus from the same site.
---
New 2003: Tablet and paraphernalia at the Romano-Germanic Museum at Cologne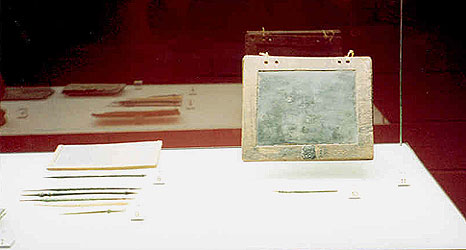 ---